One of my all time favourite things ever are red carpet events, award shows etc. The Grammy's has to be one of the best one's to catch a glimpse at the do's and do NOT's of the celebrity fashion world! I stayed up last night to grab a sneak peak of some of the gorgeous dresses the celebs wore to The Grammy Awards 2012. It's safe to say I definitely have my favourites! Who do you think was best dressed? I'm going to take you through who I thought looked absolutely, effortlessly beautiful, and who just...didn't.
Up first is the lovely Katy Perry looking flawless in Elie Saab.
I honestly think she looked gorgeous. She is by far one of very few people who can pull of any type of hair colour. If I told my friends I'd be dying my hair blue, they'd consider me as some sort of bubblegum. Katy Perry's Elie Saab gown is like something from a fairytale. Her hair looks simple yet elegant. I've seen a few comments saying "Grammy Awards? Have you seen Katy Perry? It should have been called the Granny Awards." - I could not DISAGREE more. She really does look beautiful. The dress, the hair, and simplicity of her make-up just makes the whole outfit a complete success.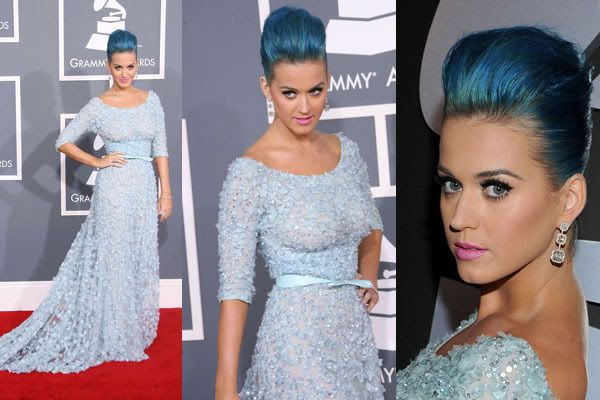 Adele is another one of my absolute favourites. She really is stunning. Some people ridicule her for her weight, when really she is giving such a positive outlook to all the women out their who have fuller figures. She's promoting the kind of look that comes across amazingly. Alot of women out their feel like their figure is a problem if they're anything above a size 14? Incorrect. The curvaceous look is just as beautiful, and Adele is constantly looking good! This was her gorgeous gown, custom made for her by Giorgio Armarni.
Kelly Osbourne. E! Fashion Police star looked amazing in a sparkling silver, one shouldered gown by Tony Ward couture. She's another celeb who I think can pull of the 'any hair colour' thing. The lilac is dead cute.
Carrie Underwood seems to never look bad. She's flawless. The dress she wore hugged her so nicely and really showed off her slim figure. Her white sequin-and-tulle gown by London-based designer Gomez Gracia was simply beautiful. So chic.
And last but not least on my list of red carpet beauties is Rihanna! I must say, I am in LOVE with her hair colour and cut in the 'You Da One' video, but I'm also in love with it here. She told Ryan Seacrest that her dress was "a collaboration between Mr. Armarni and myself" and that her inspiration for the outfit was "a little Michelle Pfeiffer from Scarface, simple, sexy yet a little gangster at the same time!". The plunging neckline and low scoop back was insanely elegant. Not the mention the fact that her Louboutin's made her feet look gorgeous too. Do Louboutin's really ever fail an outfit? I think not!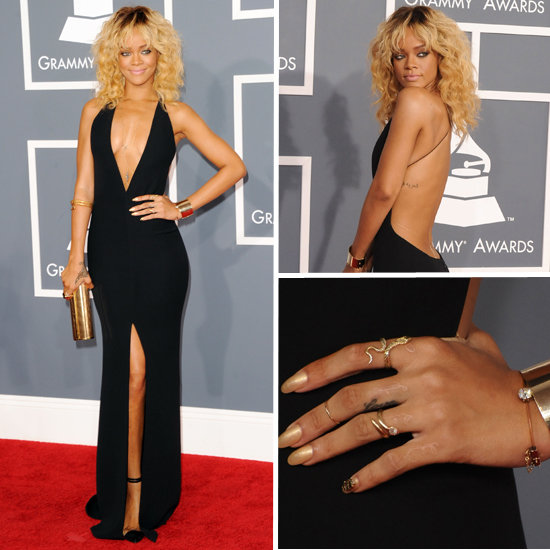 Who do you think was best dressed?